New York: Details of new football-specific stadium in June?
source: NYPost.com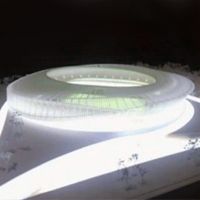 We still have to wait up to 6 weeks for details about future MLS franchise, set to be located in Flushing Meadows, Queens. New York Post informs that Manchester City owners may be the ones to grab tenancy of the $300-million planned stadium.
Major League Soccer announced it still needs 4 to 6 weeks until detailed plans for first ever New York franchise in the league. Despite formally having the Red Bulls (formerly Metrostars), the Red Bull Arena is located far outside city limits, in Harrison.
What is certain already is Flushing Meadows Park as only possible location. The green complex near national tennis center (US Open venues) in Queens has no alternative. "If we get this done, it will be in Flushing Meadows Park. There is no Plan B," MLS commissioner Don Garber told The AP yesterday.
The future MLS stadium is still somewhat of a mystery as to design and features, despite the below model being presented. Estimated budget may reach $300 million, with capacity between 25,000 (initially) to 35,000 (expandable).
Despite not knowing all details of the future stadium, even less has so far been revealed about the club itself. According to the New York Post, Cosmos aren't interested in grabbing that spot, as they already have a plan of their own, including an even more costly new stadium. What may come as a surprise, Manchester City owners are thought to be in talks over filling MLS's first NY franchise, as UEFA regulations forbid them from establishing ownership of more European clubs.